Kim Young-sam
President of South Korea
Died when: 87 years 337 days (1055 months)
Star Sign: Sagittarius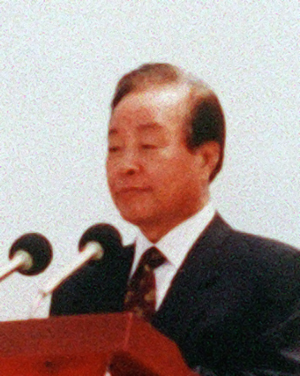 Kim Young-sam (Korean: 김영삼;Hanja: 金泳三;Korean pronunciation: [ki.mjʌŋ.sam] or [kim] [jʌŋ.sam]; 20 December 1927 – 22 November 2015) was a South Korean politician and activist who served as the seventh president of South Korea from 1993 to 1998.

From 1961, he spent almost 30 years as one of the leaders of the South Korean opposition, and one of the most powerful rivals to the authoritarian regimes of Park Chung-hee and Chun Doo-hwan.

Elected as president in 1992, Kim became the first civilian to hold the office in over 30 years.He was inaugurated on 25 February 1993, and served a single five-year term, presiding over a massive anti-corruption campaign, the arrest of his two predecessors, and an internationalization policy called Segyehwa.

At the final years of his presidency, Kim had been widely blamed for the downturn and recession of the South Korean economy during the 1997 Asian financial crisis, which forced South Korea to accept tens of billions of dollars in unpopular conditional loans from the International Monetary Fund (IMF).

This caused him to have one of the lowest approval ratings of any incumbent president in the history of South Korea.


---