Lee Teng-hui
President of the Republic of China
Died when: 97 years 197 days (1170 months)
Star Sign: Capricorn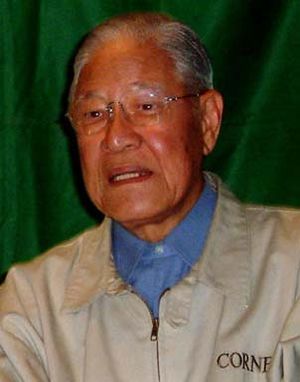 Lee Teng-hui (15 January 1923 – 30 July 2020); also spelled as Li Denghui was a Taiwanese statesman and economist who was the fourth President of the Republic of China (Taiwan) under the 1947 Constitution and chairman of the Kuomintang (KMT) from 1988 to 2000.

Born in Sanzhi District under the Japanese colonial government, Lee served in the Imperial Japanese Navy for three years.His involvement into politics began when he joined the Chinese Communist Party in 1946.

After the Kuomintang retreated to Taiwan, he joined the party in 1971 serving various roles in the government.Following the death of his predecessor of Chiang Ching-kuo in 1988, Lee became the first native Taiwanese president, the last to be indirectly elected and the first to be directly elected.

During his presidency, Lee oversaw the end of martial law and the full democratization of the ROC, advocated the Taiwanese localization movement, and led an ambitious foreign policy to gain allies around the world.

Nicknamed "Mr.Democracy", Lee was credited as the president who initiated Taiwan's transition to the democratic era.After leaving office, he remained active in Taiwanese politics.

Lee was considered the "spiritual leader" of the pro-independence Taiwan Solidarity Union (TSU), and recruited for the party in the past.

After Lee campaigned for TSU candidates in the 2001 Taiwanese legislative election, he was expelled by KMT.Other activities that Lee engaged in included maintaining relations with former Taiwanese President Chen Shui-bian and Japan.


---