Leonard Bernstein
American composer and conductor
Died when: 72 years 50 days (865 months)
Star Sign: Virgo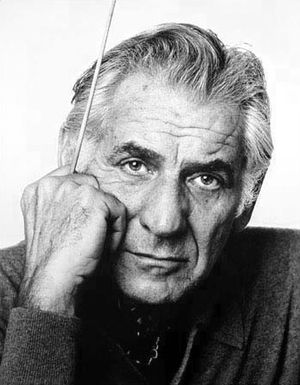 Leonard Bernstein (/ˈbɜːrnstaɪn/ BURN-styne;August 25, 1918 – October 14, 1990) was an American conductor, composer, pianist, music educator, author, and humanitarian.

Considered to be one of the most important conductors of his time, he was the first American conductor to receive international acclaim.

According to music critic Donal Henahan, he was "one of the most prodigiously talented and successful musicians in American history".

Bernstein was the recipient of many honors, including seven Emmy Awards, two Tony Awards, sixteen Grammy Awards including the Lifetime Achievement Award, and the Kennedy Center Honor.

As a composer he wrote in many genres, including symphonic and orchestral music, ballet, film and theatre music, choral works, opera, chamber music and works for the piano.

His best-known work is the Broadway musical West Side Story, which continues to be regularly performed worldwide, and has been adapted into two (1961 and 2021) feature films.

His works include three symphonies, Chichester Psalms, Serenade after Plato's "Symposium", the original score for the film On the Waterfront, and theater works including On the Town, Wonderful Town, Candide, and his MASS.

Bernstein was the first American-born conductor to lead a major American symphony orchestra.He was music director of the New York Philharmonic and conducted the world's major orchestras, generating a significant legacy of audio and video recordings.

He was also a critical figure in the modern revival of the music of Gustav Mahler, in whose music he was most passionately interested.

A skilled pianist, he often conducted piano concertos from the keyboard.He was the first conductor to share and explore music on television with a mass audience.

Through dozens of national and international broadcasts, including the Emmy Award-winning Young People's Concerts with the New York Philharmonic, he made even the most rigorous elements of classical music an adventure in which everyone could join.

Through his educational efforts, including several books and the creation of two major international music festivals, he influenced several generations of young musicians.

A lifelong humanitarian, Bernstein worked in support of civil rights; protested against the Vietnam War; advocated nuclear disarmament; raised money for HIV/AIDS research and awareness; and engaged in multiple international initiatives for human rights and world peace.

Near the end of his life, he conducted an historic performance of Beethoven's Symphony No. 9 in Berlin to celebrate the fall of the Berlin Wall.

The concert was televised live, worldwide, on Christmas Day, 1989.


---