Leopold II
Grand Duke of Tuscany
Died when: 72 years 118 days (867 months)
Star Sign: Libra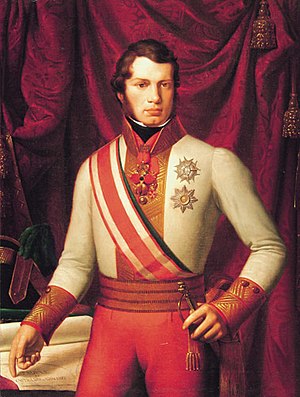 Leopold II (3 October 1797 – 29 January 1870), was Grand Duke of Tuscany (1824–1859).He married twice; first to Maria Anna of Saxony, and after her death in 1832, to Maria Antonia of the Two-Sicilies.

By the latter, he begat his eventual successor, Ferdinand.Leopold was recognised contemporarily as a liberal monarch, authorising the Tuscan Constitution of 1848, and allowing a degree of free press.

The Grand Duke was deposed briefly by a provisional government in 1849, only to be restored the same year with the assistance of Austrian troops, who occupied the state until 1855.

Leopold attempted a policy of neutrality with regard to the Second Italian War of Independence, but was expelled by a bloodless coup on 27 April 1859, just before the beginning of the war.

The Grand Ducal family left for Bologna, in Papal territory.Tuscany was occupied by soldiers of Victor Emmanuel II of Sardinia for the duration of the conflict.

The preliminary peace of Villafranca, agreed to between Napoleon III of France and Franz Joseph of Austria on 11 July, provided for the return of the Lorraines to Florence, but Leopold himself was considered too unpopular to be accepted, so on 21 July 1859 he abdicated the throne in favour of his son, Ferdinand.

Ferdinand was not, however, any more acceptable to the revolutionaries in control of Florence, and his accession was not proclaimed.

Instead, the provisional government proclaimed the deposition of the House of Habsburg (16 August).


---