Lev Yashin
Soviet-Russian football goalkeeper
Died when: 60 years 149 days (724 months)
Star Sign: Scorpio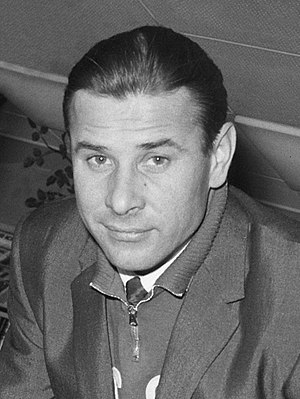 Lev Ivanovich Yashin (Russian: Лев Ива́нович Я́шин; 22 October 1929 – 20 March 1990), nicknamed the "Black Spider" or the "Black Panther", was a Soviet professional footballer, regarded by many as the greatest goalkeeper in the history of the sport.

He was known for his athleticism, positioning, stature, bravery, imposing presence in goal, and acrobatic reflex saves.He was also deputy chairman of the Football Federation of the Soviet Union.

Yashin earned status for revolutionising the goalkeeping position by imposing his authority on the entire defence.A vocal presence in goal, he shouted orders at his defenders, came off his line to intercept crosses and also ran out to meet onrushing attackers, done at a time when goalkeepers spent the 90 minutes standing in the goal waiting to be called into action.

His performances made an indelible impression on a global audience at the 1958 World Cup, the first to be broadcast internationally.

He dressed head to toe in apparent black (in truth very dark blue), thus earning his nickname the 'Black Spider', which enhanced his popularity.

Yashin appeared in four World Cups from 1958 to 1970, and in 2002 was chosen on the FIFA Dream Team of the history of World Cups.

In 1994, he was chosen for the FIFA World Cup All-Time Team, and in 1998 was chosen as a member of the World Team of the 20th Century.

According to FIFA, Yashin saved over 150 penalty kicks in professional football – more than any other goalkeeper.He also kept over 270 clean sheets in his career, winning a gold medal at the 1956 Olympic football tournament, and the 1960 European Championships.

In 1963, Yashin received the Ballon d'Or, the only goalkeeper ever to receive the award.He was additionally named posthumously to the Ballon d'Or Dream Team in 2020, a greatest all-time XI, and was voted the best goalkeeper of the 20th century by the IFFHS.

In November 2003, to celebrate UEFA's Jubilee, he was selected as the Golden Player of Russia by the Russian Football Union as their most outstanding player of the past 50 years.


---