Lewis H. Brereton
United States Army general
Died when: 77 years 29 days (924 months)
Star Sign: Cancer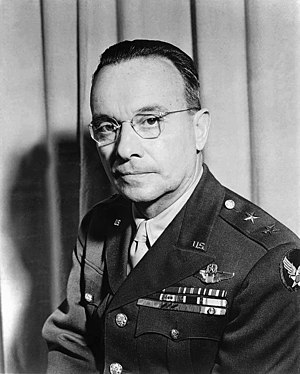 Lewis Hyde Brereton (June 21, 1890 – July 20, 1967) was a military aviation pioneer and lieutenant general in the United States Air Force.

A 1911 graduate of the United States Naval Academy, he began his military career as a United States Army officer in the Coast Artillery Corps prior to World War I, then spent the remainder of his service as a career aviator.

Brereton was one of the few senior U.S. commanders in World War II who served in combat theaters continuously from the attack on Pearl Harbor to the German surrender, and he saw action in more theaters than any other senior officer.

He began World War II as a major general commanding the Far East Air Force in the Philippines and concluded it as a lieutenant general in command of the First Allied Airborne Army in Germany.

Brereton commanded forces in four controversial events of the war: the destruction on the ground of much of the United States Army Air Forces in the Philippines, Operation Tidal Wave;

Operation Cobra; and Operation Market Garden.Brereton was one of the first military pilots of the United States Army, assigned to the Aeronautical Division, U.S.

Signal Corps in September 1912.He was also one of five officers (the others being General of the Air Force Henry H.

Arnold, Major Generals Frank P.Lahm and Benjamin D.Foulois, and Brigadier General Thomas DeW.Milling) who were members of the United States Air Force and all of its progenitors, but the only one to do so on continuous active duty (Arnold, Lahm, Foulois, and Milling were all on the retired list when the USAF came into being).


---