Liam Cosgrave
Irish Fine Gael politician
Died when: 97 years 174 days (1169 months)
Star Sign: Aries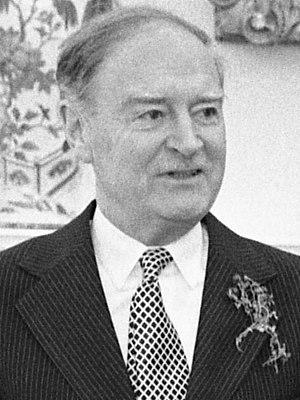 Liam Cosgrave (13 April 1920 – 4 October 2017) was an Irish Fine Gael politician who served as Taoiseach from 1973 to 1977, Leader of Fine Gael from 1965 to 1977, Leader of the Opposition from 1965 to 1973, Minister for External Affairs from 1954 to 1957, Parliamentary Secretary to the Minister for Industry and Commerce and Government Chief Whip from 1948 to 1951.

He served as a Teachta Dála (TD) from 1943 to 1981.Born in Castleknock, Dublin, Cosgrave was the son of W.

T.Cosgrave, the first President of the Executive Council in the newly formed Irish Free State.After qualifying as a barrister he began a political career.

He was elected to Dáil Éireann at the 1943 general election and sat in opposition alongside his father.In the first inter-party government in 1948, Cosgrave was appointed as Parliamentary Secretary to the Taoiseach John A.

Costello.He became a cabinet member in 1954 when he was appointed Minister for External Affairs.The highlight of his three-year tenure was Ireland's successful entry into the United Nations.

In 1965, Cosgrave was the unanimous choice of his colleagues to succeed James Dillon as leader of Fine Gael.He lost the 1969 general election to the incumbent Taoiseach Jack Lynch, but won the 1973 general election and became Taoiseach in a Fine Gael-Labour Party government.


---