Aretha Franklin
American singer
Died when: 76 years 144 days (916 months)
Star Sign: Aries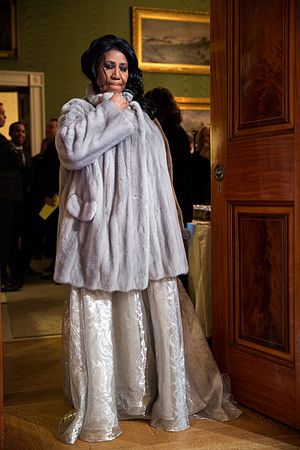 er as a chion Aretha Franklin's Last-Minute, Showstopping 1998 Opera Moment: 'She Was Incomparable' |url = |access-date = August 17, 2018 |work = Billboard |publisher = Billboard-Hollywood Reporter Media Group |date = August 16, 2018 }} In a widely noted performance, she paid tribute to 2015 honoree Carole King by singing "(You Make Me Feel Like) A Natural Woman" at the Kennedy Center Honors.

Franklin recorded 112 charted singles on Billboard, including 77 Hot 100 entries, 17 top-ten pop singles, 100 R&B entries, and 20 number-one R&B singles.

Besides the foregoing, Franklin's well-known hits also include "Ain't No Way", "Call Me", "Don't Play That Song (You Lied)", "Spanish Harlem", "Rock Steady", "Day Dreaming", "Until You Come Back to Me (That's What I'm Gonna Do)", "Something He Can Feel", "Jump to It", "Freeway of Love", "Who's Zoomin' Who", and "I Knew You Were Waiting (For Me)" (a duet with George Michael).

She won 18 Grammy Awards, including the first eight awards given for Best Female R&B Vocal Performance (1968–1975).Franklin is one of the best-selling music artists of all time, having sold more than 75 million records worldwide.

Franklin received numerous honors throughout her career.She was awarded the National Medal of Arts and the Presidential Medal of Freedom.

In 1987, she became the first female performer to be inducted into the Rock and Roll Hall of Fame.She also was inducted into the UK Music Hall of Fame in 2005 and into the Gospel Music Hall of Fame in 2012.

In 2010, Rolling Stone magazine ranked her number one on its list of the "100 Greatest Singers of All Time" and number nine on its list of "100 Greatest Artists of All Time".

The Pulitzer Prize jury in 2019 awarded Franklin a posthumous special citation "for her indelible contribution to American music and culture for more than five decades".

In 2020, she was inducted into the National Women's Hall of Fame.


---