Lord John Hay
Royal Navy admiral of the fleet
Died when: 88 years 255 days (1064 months)
Star Sign: Virgo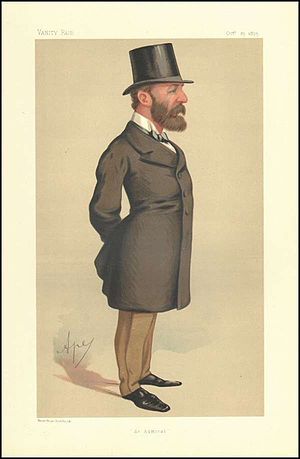 Admiral of the Fleet Lord John Hay, GCB (23 August 1827 – 4 May 1916) was a Royal Navy officer and politician.After seeing action in 1842 during the First Opium War, he went ashore with the Naval Brigade and took part in the defence of Eupatoria in November 1854 and the Siege of Sevastopol in spring 1855 during the Crimean War.

He also took part in the Battle of Taku Forts in August 1860 during the Second Opium War.As a politician, he became Member of Parliament for Wick and later for Ripon.

He was sent to the Mediterranean in July 1878 to take control of Cyprus and to occupy it in accordance with decisions reached at the Congress of Berlin.

In a highly political appointment, he was made First Naval Lord in March 1886 when the Marquis of Ripon became First Lord of the Admiralty but had to stand down just five months later when William Gladstone's Liberal Government fell from power in August 1886.


---