Pik Botha
South African politician
Died when: 86 years 168 days (1037 months)
Star Sign: Taurus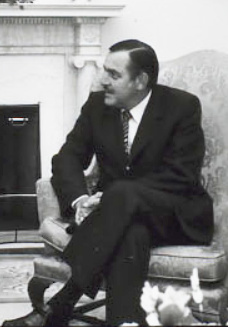 Roelof Frederik "Pik" Botha, DMS (27 April 1932 – 12 October 2018) was a South African politician who served as the country's foreign minister in the last years of the apartheid era, the longest-serving in South African history.

Known as a liberal within the party, Botha served to present a friendly, conciliatory face on the regime, while criticised internally.

He was a leading contender for the leadership of the National Party upon John Vorster's resignation in 1978, but was ultimately not chosen.

Staying in the government after the first non-racial general election in 1994, he served under Mandela as Minister of Mineral and Energy Affairs from 1994 to 1996, and eventually joined the African National Congress (ANC) after his resignation.

Botha was nicknamed 'Pik' (short for pikkewyn, Afrikaans for 'penguin') because of a perceived likeness to a penguin in his stance, accentuated when he wore a suit.

He was not related to Prime Minister (later State President) P.W.Botha, under whom he served as foreign minister for 17 years.


---