Manolis Glezos
Greek left-wing politician
Died when: 97 years 203 days (1170 months)
Star Sign: Virgo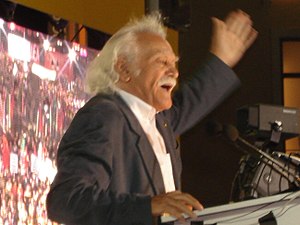 Manolis Glezos (Greek: Μανώλης Γλέζος; 9 September 1922 – 30 March 2020) was a Greek left-wing politician, journalist, author, and folk hero, best known for his participation in the World War II resistance.

In Greece, he is best remembered for taking down the Flag of Nazi Germany from the Acropolis during the Axis occupation of Greece, along with Lakis Santas.

After the end of the Occupation, his left-wing political beliefs and activism led to him being sentenced to death thrice; his imprisonments and legal troubles were often the topic of international interest, until his permanent release in 1971.

Since the restoration of democracy in 1974, he had been active as a politician, becoming a Member of the Greek Parliament for various left-wing parties over the years.

In 2014, at the age of 91, he became a Member of the European Parliament for a second time in his life, for Syriza, making him the oldest-ever member of the European Parliament- he was also the most voted-for candidate in Greece.

Glezos was an award-winning journalist, and worked as head-editor and editor for the left-wing newspapers Rizospastis and I Avgi, which are popular to this day; he also published six books.


---