Marc Bolan
British musician
Died when: 29 years 351 days (359 months)
Star Sign: Libra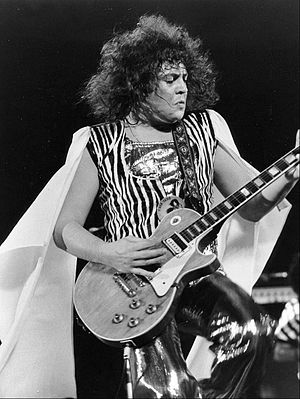 Marc Bolan ( BOH-lən; born Mark Feld; 30 September 1947 – 16 September 1977) was an English singer-songwriter, musician, record producer, and poet.He is known as one of the pioneers of the glam rock movement of the early 1970s with his band T.

Rex.In the late 1960s, he had risen to fame as the founder and leader of the psychedelic rock band Tyrannosaurus Rex.

Bolan's appearance on the BBC's music show Top of the Pops in March 1971, wearing glitter and satins, is often cited as the beginning of the glam rock movement.

Music critic Ken Barnes called Bolan "the man who started it all".T.Rex's 1971 album Electric Warrior, with all songs written by Bolan, including the UK chart topper "Get It On", has been described by AllMusic as "the album that essentially kick-started the UK glam rock craze." Producer Tony Visconti, who worked with Bolan on all the Tyrannosaurus Rex albums and onthe most successful T.

Rex records, stated: "What I saw in Marc Bolan had nothing to do with strings, or very high standards of artistry; what I saw in him was raw talent.

I saw genius.I saw a potential rock star in Marc – right from the minute, the hour I met him." Bolan died at the age of 29 in a car crash two weeks before his 30th birthday.

In 1977, a memorial stone and bust of Bolan, Marc Bolan's Rock Shrine, was unveiled at the site where he died in Barnes, London.

As a member of T.Rex, Bolan was posthumously inducted into the Rock and Roll Hall of Fame in 2020.


---