Marion Carpenter
Photographer
Died when: 82 years 237 days (991 months)
Star Sign: Pisces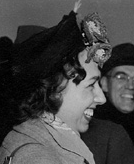 Marion A.Carpenter (March 6, 1920 – October 29, 2002), was the first woman national press photographer to cover Washington, D.C. and the White House, and to travel with a US President.

She broke the gender role stereotype in 1951, Carpenter returned to St.Paul, Minnesota, where she worked as a nurse to support her mother and son.

While she did some photography, by her death at age 82, she was little known in the national memory.Since her death, there has been recognition of Carpenter as a pioneer.


---