Marty Schottenheimer
American football coach
Died when: 77 years 138 days (928 months)
Star Sign: Libra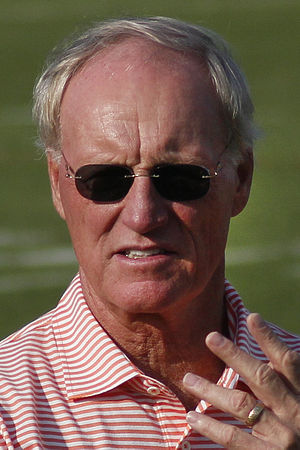 Martin Edward Schottenheimer (;September 23, 1943 – February 8, 2021) was an American football linebacker and coach who served as a head coach in the National Football League (NFL) from 1984 to 2006.

He was the head coach of the Kansas City Chiefs for ten seasons, the Cleveland Browns and the San Diego Chargers for five each, and the Washington Redskins for one.

Eighth in career wins at 205 and seventh in regular season wins at 200, Schottenheimer has the most wins of an NFL head coach to not win a championship.

After coaching in the NFL, he won a 2011 championship in his one season with the Virginia Destroyers of the United Football League (UFL).

He was inducted to the Kansas City Chiefs Hall of Fame in 2010.Schottenheimer's tenure as an NFL head coach was marked by consistent regular season success and postseason struggles.

In his 21 seasons, he reached the playoffs 13 times and had only two losing records.He also was named NFL Coach of the Year with the Chargers in 2004 for leading a team that went 4–12 the previous year to a 12–4 record.

However, Schottenheimer won only five of his 18 postseason games and never advanced beyond the conference championship round of the playoffs.

At the conclusion of his NFL career, he held a playoff winning percentage of .278, a stark contrast to his .613 regular season winning percentage and the only losing playoff record of an NFL coach with 200 wins.

He is the only eligible NFL coach with 200 regular season wins who has not been inducted into the Pro Football Hall of Fame.


---