Maryanne Trump Barry
United States federal judge
Died when: 86 years 222 days (1039 months)
Star Sign: Aries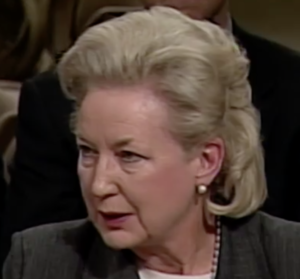 Maryanne Trump Barry (born April 5, 1937) was an American attorney and a retired United States federal judge.She became an Assistant United States Attorney in 1974, and was first appointed to the United States District Court for the District of New Jersey by President Ronald Reagan in 1983.

In 1999, she was appointed to the United States Court of Appeals for the Third Circuit (Philadelphia, PA) by President Bill Clinton.

In January 2006, she testified before the Senate Judiciary Committee in support of the nomination of her colleague Samuel Alito to the United States Supreme Court.

She took senior status in June 2011 and in February 2019 she announced her retirement from the bench after an investigation was launched into allegations that she committed judicial misconduct by participating in fraudulent tax and financial transactions.

She is the sister of former U.S.President Donald Trump.


---