James Dalton II
United States Army General
Died when: 35 years 116 days (423 months)
Star Sign: Capricorn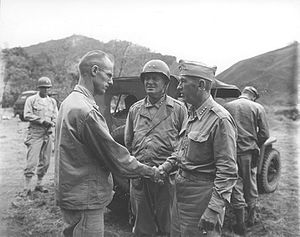 James Leo Dalton II (January 20, 1910 – May 16, 1945) was a general and commander of United States Army forces during World War II.

He graduated from West Point in 1933 and earned the Silver Star during the strategically significant Guadalcanal Campaign in which he commanded the 161st Infantry Regiment as a colonel.

Dalton later commanded the 161st during the New Georgia Campaign in 1943 and Battle of Luzon in 1945 before being promoted and reassigned as assistant commander of the 25th Infantry Division.

He was killed by a Japanese sniper during the Battle of Balete Pass on May 16, 1945.


---