Michel Roux
French chef and UK restaurateur
Died when: 78 years 327 days (946 months)
Star Sign: Aries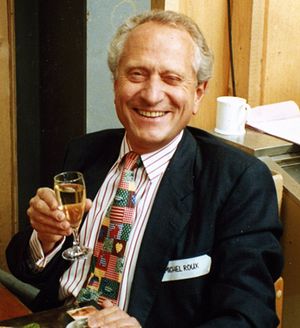 Michel Roux, ([mi.ʃɛl ʁu]; 19 April 1941 – 11 March 2020), also known as Michel Roux Snr., was a French chef and restaurateur working in Britain.

Along with his brother Albert, he opened Le Gavroche, later to become the first three Michelin starred restaurant in Britain, and The Waterside Inn, which was the first restaurant outside France to hold three stars for 25 years.

Roux followed his brother into becoming a pastry chef, and again to England in order to open their first restaurant.

Together they have been described as the "godfathers of modern restaurant cuisine in the UK", and Roux was inducted into several French orders, and received two lifetime achievement awards from different publications.

He was decorated during a period of National Service for France during the 1960s.He founded the Roux Brothers Scholarship along with Albert in 1984, and worked as a consultant for companies such as British Airways and Celebrity Cruises over the years.

After he and his brother split the business in 1986, Roux took the Waterside Inn, which he handed over to his son, Alain, in 2002.

He remained an active food writer and appeared on television shows such as Saturday Kitchen, MasterChef and the Roux family-centric series The Roux Legacy, and on the Woman's Hour programme on BBC Radio 4.


---