Mickey Vernon
American baseball player and coach
Died when: 90 years 155 days (1085 months)
Star Sign: Taurus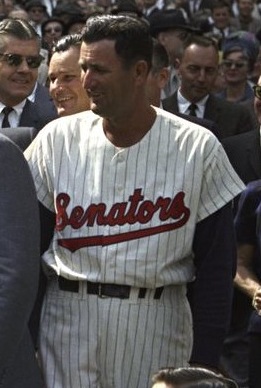 James Barton "Mickey" Vernon (April 22, 1918 – September 24, 2008) was an American Major League Baseball (MLB) first baseman who played for the Washington Senators (1939–1948, 1950–1955), Cleveland Indians (1949–1950, 1958), Boston Red Sox (1956–1957), Milwaukee Braves (1959) and Pittsburgh Pirates (1960).

He also was the first manager in the history of the expansion edition of the Senators (now the Texas Rangers), serving from 1961 through May 21, 1963, and was a coach for four MLB teams between 1960 and 1982.

Vernon retired as a player in 1960 with 2,495 hits, and holds the major league record for career double plays at first base (2,044).

He has the American League (AL) record for career games (2,227), putouts (19,754), assists (1,444) and total chances (21,408).The lanky Vernon was listed as 6 feet 2 inches (1.88 m) tall and 170 pounds (77 kg); he batted and threw left-handed.


---