Momcilo Krajisnik
Bosnian Serb political leader
Died when: 75 years 239 days (907 months)
Star Sign: Capricorn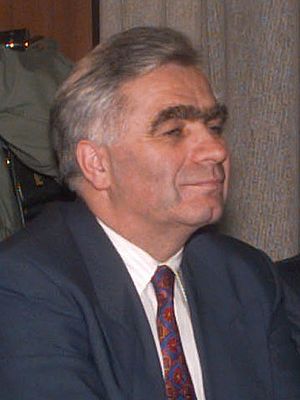 Momčilo Krajišnik (Serbian Cyrillic: Момчило Крајишник; born 20 January 1945) is a former Bosnian Serb political leader, who along with Radovan Karadžić co-founded the Bosnian Serb nationalist Serb Democratic Party (SDS).

Between 1990 and 1992, he was Speaker of the People's Assembly of Republika Srpska.Between June and December 1992, he also served as member of the expanded Presidency of Republika Srpska.After the Bosnian War, he was elected Serb member of the tripartite Presidency of Bosnia and Herzegovina in the September 1996 and served in that post from October 1996 to October 1998.

He lost his bid for re-election in 1998 to Živko Radišić.In 2006 Krajišnik was found guilty of committing crimes against humanity during the Bosnian War (1992–95) by the International Criminal Tribunal for the former Yugoslavia (ICTY) and was sentenced to 20 years' improsonment.

He was later granted early release on 1 September 2013, and he returned to Republika Srpska.


---