Nikolai Leskov
Russian writer
Died when: 63 years 79 days (758 months)
Star Sign: Sagittarius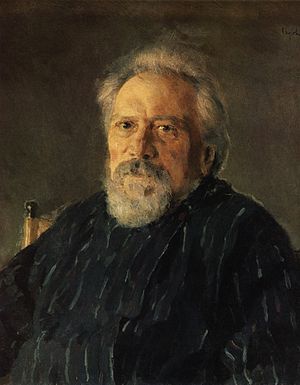 Nikolai Semyonovich Leskov (Russian: Никола́й Семёнович Леско́в; 16 February [O.S. 4 February] 1831 – 5 March [O.S. 21 February] 1895) was a Russian novelist, short-story writer, playwright, and journalist, who also wrote under the pseudonym M.

Stebnitsky.Praised for his unique writing style and innovative experiments in form, and held in high esteem by Leo Tolstoy, Anton Chekhov and Maxim Gorky among others, Leskov is credited with creating a comprehensive picture of contemporary Russian society using mostly short literary forms.

His major works include Lady Macbeth of Mtsensk (1865) (which was later made into an opera by Shostakovich), The Cathedral Folk (1872), The Enchanted Wanderer (1873), and "The Tale of Cross-eyed Lefty from Tula and the Steel Flea" (1881).

Leskov received his formal education at the Oryol Lyceum.In 1847 Leskov joined the Oryol criminal court office, later transferring to Kiev, where he worked as a clerk, attended university lectures, mixed with local people, and took part in various student circles.

In 1857 Leskov quit his job as a clerk and went to work for the private trading company Scott & Wilkins owned by Alexander Scott, his aunt's Scottish husband.

His literary career began in the early 1860s with the publication of his short story The Extinguished Flame (1862), and his novellas Musk-Ox (May 1863) and The Life of a Peasant Woman (September, 1863).

His first novel No Way Out was published under the pseudonym M.Stebnitsky in 1864.From the mid-1860s to the mid-1880s Leskov published a wide range of works, including journalism, sketches, short stories, and novels.

Leskov's major works, many of which continue to be published in modern versions, were written during this time.A number of his later works were banned because of their satirical treatment of the Russian Orthodox Church and its functionaries.

Leskov died on 5 March 1895, aged 64, and was interred in the Volkovo Cemetery in Saint Petersburg, in the section reserved for literary figures.


---