Park Won-soon
Mayor of Seoul
Died when: 64 years 105 days (771 months)
Star Sign: Aries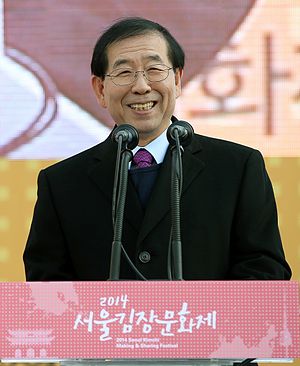 Park Won-soon (Korean: 박원순;February 11, 1955 – July 9, 2020) was a South Korean politician, activist, and lawyer.He was the longest-serving mayor of Seoul, from 2011 until his death in July 2020.

Being a member of the Democratic Party of Korea, he was first elected in 2011 and won re-election in 2014 and 2018.Prior to being elected mayor, Park was a community and social justice activist, serving as a member of the Truth and Reconciliation Commission.

A noted political donor in Seoul, Park contributed to political organizations and think tanks that advocated for grassroots solutions towards social, educational, environmental, and political issues.

In July 2020, Park's former secretary accused him of four years of sexual harassment.Park died the next day in an apparent suicide.


---