Robert Vaughn
American actor
Died when: 83 years 355 days (1007 months)
Star Sign: Sagittarius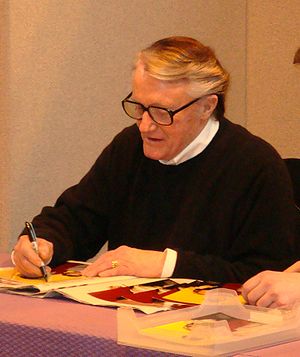 Robert Francis Vaughn (November 22, 1932 – November 11, 2016) was an American actor noted for his stage, film and television work.His television roles include the spy Napoleon Solo in the 1960s series The Man from U.N.C.L.E.; the detective Harry Rule in the 1970s series The Protectors;

Morgan Wendell in the 1978–1979 miniseries Centennial;General Hunt Stockwell in the fifth season of the 1980s series The A-Team; and grifter and card sharp Albert Stroller in the British television drama series Hustle (2004–2012), for all but one of its 48 episodes.

He also appeared in the British soap opera Coronation Street as Milton Fanshaw from January until February 2012.In film, he portrayed the gunman Lee in The Magnificent Seven with Yul Brynner and Steve McQueen, Major Paul Krueger in The Bridge at Remagen with George Segal and Ben Gazzara, the voice of Proteus IV, the computer villain of Demon Seed, Walter Chalmers in Bullitt with Steve McQueen, Ross Webster in Superman III with Christopher Reeve, General Woodbridge in The Delta Force with Lee Marvin, and war veteran Chester A.

Gwynn in The Young Philadelphians with Paul Newman, which earned him a 1959 Academy Award nomination for Best Supporting Actor.


---