Paul Pelseneer
Belgian zoologist
Died when: 81 years 313 days (982 months)
Star Sign: Cancer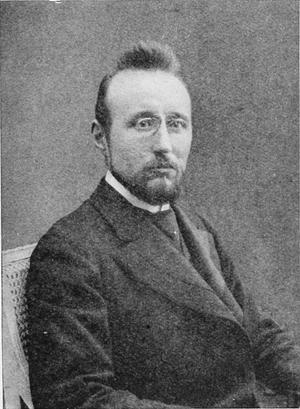 Jean Paul Louis Pelseneer (Brussels, 26 June 1863 – Brussels, 5 May 1945) was a Belgian malacologist, morphologist, ethologist and phylogenist.In 1880, at the age of seventeen, Pelseneer became a member of the Belgian Malacological Society.

He studied at the University of Brussels and in 1884 he obtained his doctor's degree in natural sciences.He continued his studies with the French zoologist Alfred Mathieu Giard at the marine laboratory in Wimereux (Université Lille Nord de France), and concluded his studies with the English invertebrate zoologist Ray Lankester at University College London.

Pelseneer then became a teacher of chemistry at the Normal School in Ghent.He devoted himself to zoology during his spare time, without having a laboratory at his disposal.

Pelseneer became recognized in Belgium as well as abroad as one of the most eminent zoologists of his time, but he never obtained an appointment as university professor and thus was not able to transfer his knowledge to students.

The only times he could use a marine laboratory were in his spare time when he went to Lille and worked with Giard.

His dissections were made using the most simple instruments, almost children's toys.He was given drawing lessons by the Belgian painter and sculptor Constantin Meunier, so that he could illustrate his scientific papers himself.

In 1889, Pelseneer became a corresponding member of the Royal Academy of Belgium, and became an ordinary member in 1903.He was removed from his teaching post in Ghent during the occupation by the Germans in World War I (1914–1918).

In 1919 he became the perpetual secretary of the Royal Academy, and stayed in this post until 1936.In 1906 he received the degree of Doctor honoris causa from the University of Leeds.

Pelseneer was elected Honorary Member of the Malacological Society of London in 1922.In 1934 he received the degree of Doctor honoris causa from the University of Brussels for his outstanding works on molluscs.

Although Pelseneer was primarily a malacologist, he was interested in all aspects of zoology.During his lifetime he described 43 new marine species, 31 of which were molluscs.

He studied material from the Challenger expedition and from the Siboga Expedition.He is the father of historian of science Jean Pelseneer (1903-1985).


---