Pieter Caland
Dutch civil engineer
Died when: 75 years 354 days (911 months)
Star Sign: Leo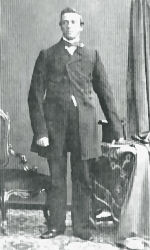 Pieter Caland (Zierikzee, 23 July 1826 - Wageningen, 12 July 1902) was a Dutch civil engineer in the service of the Rijkswaterstaat.He devised the plan for the Nieuwe Waterweg and implemented it from 1864 to 1872.

This visionary project was not without problems and setbacks.Part of the canal had to be dug through wide dunes and special provisions were made for the siting of the channel counter, leading it to run over-time and over-budget and causing Caland to be criticised.

However, the new canal caused a boom in trade into Rotterdam and thus fully justified its costs.


---