Pol Pot
Khmer Rouge leader
Died when: 73 years 331 days (886 months)
Star Sign: Taurus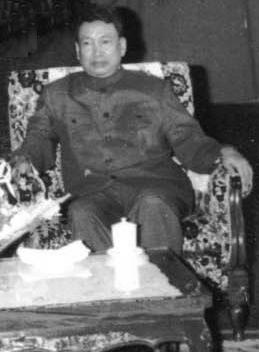 Pol Pot (born Saloth Sâr; 19 May 1925 – 15 April 1998) was a Cambodian revolutionary and politician who governed Cambodia as the Prime Minister of Democratic Kampuchea between 1975 and 1979.

Ideologically a Marxist–Leninist and a Khmer nationalist, he was a leading member of Cambodia's communist movement, the Khmer Rouge, from 1963 until 1997 and served as the General Secretary of the Communist Party of Kampuchea from 1963 to 1981.

Under his administration, Cambodia was converted into a one-party communist state and went through the events of the Cambodian genocide.

Born to a prosperous farmer in Prek Sbauv, French Cambodia, Pol Pot was educated at some of Cambodia's most elite schools.

While in Paris during the 1940s, he joined the French Communist Party.Returning to Cambodia in 1953, he involved himself in the Marxist–Leninist Khmer Việt Minh organisation and its guerrilla war against King Norodom Sihanouk's newly independent government.

Following the Khmer Việt Minh's 1954 retreat into Marxist–Leninist controlled North Vietnam, Pol Pot returned to Phnom Penh, working as a teacher while remaining a central member of Cambodia's Marxist–Leninist movement.

In 1959, he helped formalise the movement into the Kampuchean Labour Party, which was later renamed the Communist Party of Kampuchea (CPK).

To avoid state repression, in 1962 he relocated to a jungle encampment and in 1963 became the CPK's leader.In 1968, he relaunched the war against Sihanouk's government.

After Lon Nol ousted Sihanouk in a 1970 coup, Pol Pot's forces sided with the deposed leader against the new government, which was bolstered by the United States military.

Aided by the Việt Cộng militia and North Vietnamese troops, Pol Pot's Khmer Rouge forces advanced and controlled all of Cambodia by 1975.

Pol Pot transformed Cambodia into a one-party state called Democratic Kampuchea.Seeking to create an agrarian socialist society that he believed would evolve into a communist society, Pol Pot's government forcibly relocated the urban population to the countryside to work on collective farms.

Pursuing complete egalitarianism, money was abolished and all citizens were made to wear the same black clothing.Mass killings of perceived government opponents, coupled with malnutrition and poor medical care, killed between 1.5 and 2 million people, approximately a quarter of Cambodia's population; a process later termed the Cambodian Genocide.

Repeated purges of the CPK generated growing discontent; by 1978 Cambodian soldiers were mounting a rebellion in the east.After several years of border clashes, the newly unified Vietnam invaded Cambodia in December 1978, toppling Pol Pot and installing a rival Marxist–Leninist government in 1979.

The Khmer Rouge retreated to the jungles near the Thai border, from where they continued to fight.In declining health, Pol Pot stepped back from many of his roles in the movement.

In 1998 the Khmer Rouge commander Ta Mok placed Pol Pot under house arrest, shortly after which he died.Taking power at the height of Marxism–Leninism's global impact, Pol Pot proved divisive among the international communist movement.

Many claimed he deviated from orthodox Marxism–Leninism, but China backed his government as a bulwark against Soviet influence in Southeast Asia.

To his supporters, he was a champion of Cambodian sovereignty in the face of Vietnamese imperialism and stood against the Marxist revisionism of the Soviet Union.

Conversely, he was widely denounced internationally for his role in the Cambodian genocide and is regarded as a totalitarian dictator guilty of crimes against humanity.


---