Pragyananda Mahasthavir
Buddhist monk
Died when: 92 years 313 days (1114 months)
Star Sign: Taurus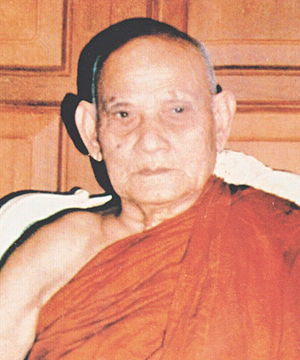 Pragyananda Mahasthavir (Devanagari: प्रज्ञानन्द महास्थविर) (born Kul Man Singh Tuladhar) (2 May 1900 – 11 March 1993) was a Nepalese Buddhist monk who was one of the leaders of the revival of Theravada Buddhism in Nepal.

In 1930, he became the first monk wearing yellow robes to be seen in Kathmandu since the 14th century.Pragyananda served Buddhism and wrote religious literature in Nepal Bhasa when both the religion and language were being suppressed by the autocratic Rana regime.

For these offenses, he was expelled from the country.Pragyananda also became the first Sangha Mahanayaka (Patriarch) of Nepal in modern times.


---