Prince Imperial Heung
Prince of Joseon Dynasty and Korean Empire
Died when: 67 years 41 days (805 months)
Star Sign: Leo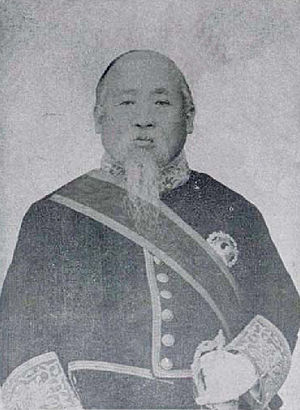 Prince Imperial Heung (Korean: 흥친왕;Hanja: 興親王, 22 August 1845 – 9 September 1912) was a prince of the Joseon dynasty and of the Korean Empire.

He was the son of Heungseon Daewongun and the elder brother of Emperor Gojong of Korea.By birth, his original name was Yi Jae-myon (이재면; 李載冕) and the art name was U-seok (우석; 又石); after he acquired the "Prince Imperial" title, his name was changed to Yi Hui (이희; 李熹) on 25 August 1910.

Five days later, the Japan–Korea Treaty of 1910 became effective, Yi Hui lost the imperial title and received a title "Duke Yi Hui" (이희공; 李熹公) instead.


---