Princess Elisabeth of Hesse and by Rhine
Daughter of Ernst-Ludwig, last Grand Duke of Hesse
Died when: 8 years 250 days (104 months)
Star Sign: Pisces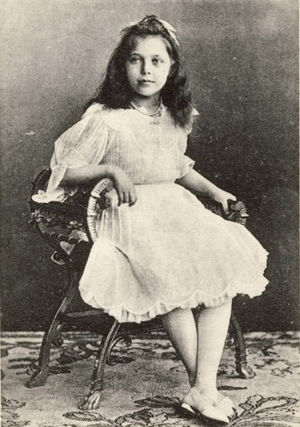 Princess Elisabeth of Hesse and by Rhine (Prinzessin Elisabeth Marie Alice Viktoria von Hessen und bei Rhein) ( 11 March 1895 – 16 November 1903) was the only daughter of Ernst Ludwig, Grand Duke of Hesse and by Rhine and his first wife, Princess Victoria Melita of Saxe-Coburg and Gotha.

She was named after her paternal great-grandmother, who was born Princess Elisabeth of Prussia.Her paternal aunt had the same name and was also nicknamed Ella.

Elisabeth's early death was rumored to be a result of poison meant for her uncle, Tsar Nicholas II, but the court physician said she died of virulent typhoid, probably caused by her taking a drink of water from a contaminated stream.


---