Princess Vera Constantinovna of Russia
Russian princess
Died when: 94 years 262 days (1136 months)
Star Sign: Taurus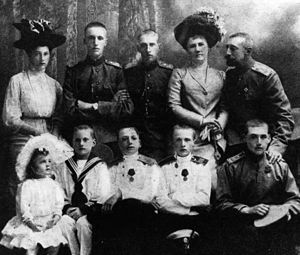 Princess Vera Constantinovna of Russia, also Vera Konstantinovna (Russian: Вера Константиновна Романова; 24 April 1906 – 11 January 2001), was the youngest child of Grand Duke Konstantine Konstantinovich of Russia and his wife, Grand Duchess Elizabeth Mavrikievna.

A great-granddaughter of Tsar Nicholas I of Russia, she was born in the Russian Empire and was a childhood playmate of the younger children of Emperor Nicholas II of Russia.

She lost much of her family during World War I and the Russian Revolution.At age twelve, she escaped revolutionary Russia, fleeing with her mother and brother George to Sweden.

She spent the rest of her long life in exile, first in Western Europe and from the 1950s in the United States.


---