Princess Pauline of Anhalt-Bernburg
Regent of Lippe
Died when: 51 years 310 days (622 months)
Star Sign: Pisces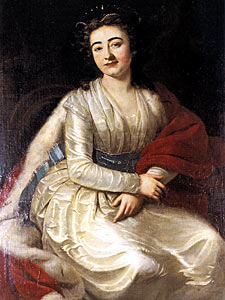 Pauline Christine Wilhelmine of Anhalt-Bernburg (also: Princess Pauline of Lippe; 23 February 1769 – 29 December 1820) was a princess consort of Lippe, married in 1796 to Leopold I, Prince of Lippe.

She served as the regent of Lippe during the minority of her son from 1802 to 1820.She is regarded as one of the most important rulers of Lippe.

On 1 January 1809, she abolished serfdom by princely decree.She managed to keep the principality independent during the Napoleonic Wars.She wrote a constitution, in which the power of the estates was reduced.

In the collective historical consciousness of the Lippe population, however, she is best remembered for her social goals.Influenced by French reformist writings, she founded the first day care center in Germany, a labor school for neglected children, a voluntary work camp for adult charity recipients and a health care institution with first aid center.


---