Princess Victoire of France
French princess
Died when: 66 years 27 days (792 months)
Star Sign: Taurus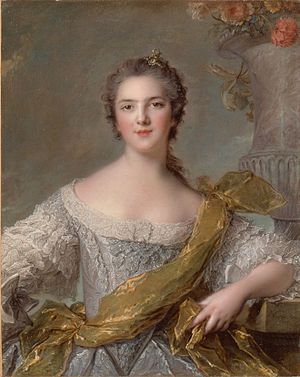 Victoire de France, (Victoire Louise Marie Thérèse; 11 May 1733 – 7 June 1799) was a French princess, the seventh child and fifth daughter of King Louis XV of France and Queen Maria Leszczyńska.

She was named after her father and Queen Maria Theresa, her great-great-grandmother and the consort of Louis XIV of France.

Originally known as Madame Quatrième, signifying the fourth daughter of the King (an older sister had died in February 1733, before her birth), she was later known as Madame Victoire.

She outlived eight of her nine siblings, and was survived by her older sister Madame Adélaïde by less than a year.

The sisters were collectively known as Mesdames.


---