Princess Wilhelmine
Duchess of Sagan
Died when: 58 years 294 days (705 months)
Star Sign: Aquarius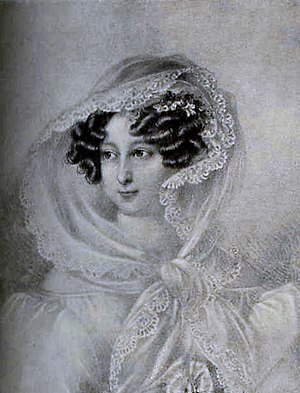 Katharina Friederike Wilhelmine Benigna, Princess of Courland, Duchess of Sagan (born 8 February 1781 in Mitau, Duchy of Courland and Semigallia); died 29 November 1839 in Vienna, Austrian Empire) was a German noble from the ruling family of Courland and Semigallia (today part of Latvia) and a Duchess of Sagan.

Wilhelmine is mainly known for her relationship with Klemens Metternich, a statesman of the Austrian Empire.French transcription of her name is Wilhelmine Catherine Frédérique Biron, Czech Kateřina Frederika Vilhelmína princezna Kuronská.

Among the Czechs she is known as kněžna Kateřina Zaháňská (Zaháň is Czech name for Żagań).


---