Quino
Argentine-Spanish cartoonist
Died when: 88 years 75 days (1058 months)
Star Sign: Cancer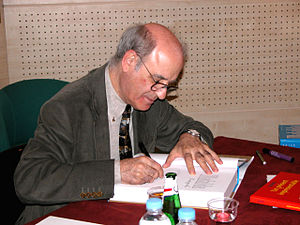 their limited social circle, he spoke with an Andalusian accent until the age of six.He retained an affection for his parents' Spanish culture and flamenco into his later years.

He obtained Spanish citizenship in 1990 and remained a dual citizen of Spain and Argentina.He was called "Quino" from his childhood on, to distinguish him from his uncle, the illustrator Joaquín, who helped to awaken his vocation of cartooning at an early age.

In 1945, after the death of his mother, he enrolled and started his studies at Escuela de Bellas Artes de Mendoza.

Shortly after, his father died in 1948 when Quino was 16 years old.A year later he abandoned his studies, with the intent to become a cartoonist.

Soon he would sell his first illustration, an advertisement for a fabric store.His first humor page was published in the weekly magazine, Esto Es, which led to the publication of other works in many other magazines: Leoplán, TV Guía, Vea y Lea, Damas y Damitas, Usted, Panorama, Adán, Atlántida, Che, the daily Democracia, etc.

In 1954, his cartoons became regulars in Rico Tipo, Tía Vicenta, and Dr.Merengue.


---