Ravi Zacharias
Canadian-American Christian apologist
Died when: 74 years 54 days (889 months)
Star Sign: Aries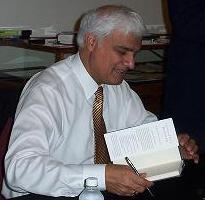 Ravi Zacharias (26 March 1946 – 19 May 2020) was an Indian-born Canadian-American Christian apologist who founded the RZIM (Ravi Zacharias International Ministry).He was involved in Christian apologetics for a period spanning more than 40 years.

Zacharias was the author of more than 30 books on Christianity, including the Evangelical Christian Publishers Association's Gold Medallion Book Award winner Can Man Live Without God? in the category "theology and doctrine" as well as Christian bestsellers Light in the Shadow of Jihad and The Grand Weaver.

Zacharias was the founder and chairman of the board of Ravi Zacharias International Ministries (RZIM) and host of the radio programs Let My People Think and Just Thinking.

He was a minister of the Christian and Missionary Alliance, the Keswickian Christian denomination in which he was ordained.Multiple sources .

In February 2021, Miller & Martin, the law firm hired by RZIM to look into these allegations, confirmed their veracity.As a result, RZIM issued an apology and subsequently announced that it would undergo a name change and remove all material related to Zacharias.

The Christian and Missionary Alliance posthumously revoked his ordination after conducting their own investigation.HarperCollins, which owns the Christian publishers Zondervan and Thomas Nelson, also confirmed that it would cease selling books written by Zacharias and remove him from other published works.


---