Red Auerbach
American basketball coach
Died when: 89 years 38 days (1069 months)
Star Sign: Virgo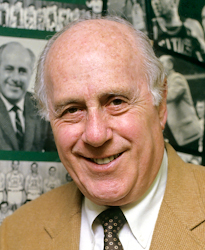 Arnold Jacob "Red" Auerbach (September 20, 1917 – October 28, 2006) was an American professional basketball coach and executive.He served as a head coach in the National Basketball Association (NBA), most notably with the Boston Celtics.

He was also the head coach of the Washington Capitols and Tri-Cities Blackhawks.As a coach, Auerbach set NBA records with 938 wins and nine championships.

After his coaching retirement in 1966, he served as president and front office executive of the Celtics until his death.As general manager and team president of the Celtics, he won an additional seven NBA titles for a grand total of 16 in a span of 29 years and making him one of the most successful team officials in the history of North American professional sports.

Auerbach is remembered as a pioneer of modern basketball, redefining basketball as a game dominated by team play and defense and for introducing the fast break as a potent offensive weapon.

He groomed many players who went on to be inducted into the Basketball Hall of Fame.Additionally, Auerbach was vital in breaking down color barriers in the NBA.

He made history by drafting the first African-American NBA player, Chuck Cooper in 1950, introduced the first African-American starting five in 1964, and hired Bill Russell as the first African-American head coach in North American sports in 1966.

Famous for his polarizing nature, he was well known for smoking a cigar when he thought a victory was assured, a habit that became, for many, "the ultimate symbol of victory" during his Boston tenure.

In 1967, the NBA Coach of the Year award, which he had won in 1965, was named the "Red Auerbach Trophy", and Auerbach was inducted into the Basketball Hall of Fame in 1969.

In 1970, Auerbach was named President of the Boston Celtics, and first held the presidency from 1970-1997.In 2001, after having spent 4 years as the team's vice-chairman, he returned to the role of team president and served in that capacity until his death in 2006.

In 1980, he was named the greatest coach in the history of the NBA by the Professional Basketball Writers Association of America, and was NBA Executive of the Year in 1980.

In addition, Auerbach was voted one of the NBA 10 Greatest Coaches in history, was inducted into the National Jewish Sports Hall of Fame, and is honored with a retired number 2 jersey in the TD Garden, the home of the Boston Celtics.


---