Red Kelly
Canadian ice hockey player
Died when: 91 years 297 days (1101 months)
Star Sign: Cancer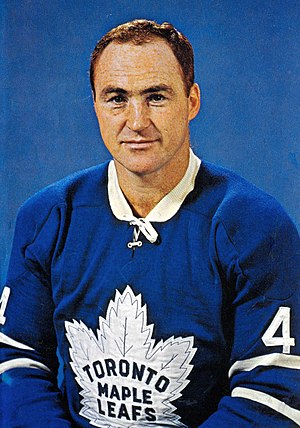 Leonard Patrick "Red" Kelly (July 9, 1927 – May 2, 2019) was a Canadian professional ice hockey player and coach.He was also a Liberal Member of Parliament for the Toronto-area riding of York West from 1962 to 1965, during which time he also won the Stanley Cup—twice—while actively playing for the Toronto Maple Leafs.

Kelly played on more Stanley Cup-winning teams (eight) than any other player who never played for the Montreal Canadiens;Henri Richard (11), Jean Beliveau (10), Yvan Cournoyer (10) and Claude Provost (9) won their Cups with the Canadiens.

He was also the only player to have never played for the Canadiens to be part of two of the nine dynasties recognized by the National Hockey League (NHL) in its history.

In 2017, Kelly was named one of the '100 Greatest NHL Players' in history.


---