Regis Philbin
American game show host
Died when: 88 years 334 days (1066 months)
Star Sign: Virgo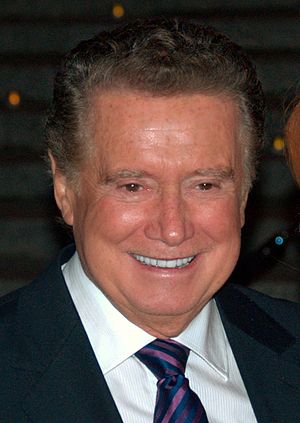 Regis Francis Xavier Philbin (/ˈriːdʒɪs ˈfɪlbɪn/;August 25, 1931 – July 25, 2020) was an American television presenter, talk show host, game show host, comedian, actor, and singer.

Once called "the hardest working man in show business", he held the Guinness World Record for the most hours spent on U.S. television (surpassing previous record holder Hugh Downs).

After graduating from the University of Notre Dame, Philbin served in the U.S.Navy and got his television start serving as a page for The Tonight Show in the 1950s.

He got his first network television exposure in 1967 as Joey Bishop's sidekick on The Joey Bishop Show.He is most widely known as the co-host of the New York City-based nationally syndicated talk show Live! with Regis and Kathie Lee, starting in 1988, which became Live! with Regis and Kelly in 2001, and continued as Live! with Kelly after Philbin's departure in 2011.

He is also well-known as the original host of the U.S. version of Who Wants to Be a Millionaire, the most-watched prime-time series of the 1999–2000 U.S. television season.

Philbin also hosted Million Dollar Password and the first season of America's Got Talent.


---