Suzanne Lenglen
French tennis player
Died when: 39 years 41 days (469 months)
Star Sign: Gemini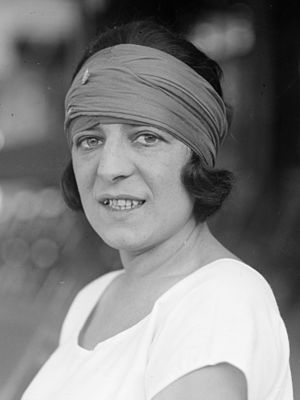 Suzanne Rachel Flore Lenglen (24 May 1899 – 4 July 1938) was a French tennis player.She was ranked as the inaugural world No. 1 from 1921 to 1926, winning 8 Grand Slam singles titles and 21 in total, as well as 10 World Championship titles.

She won six Wimbledon singles titles, including five in a row from 1919 to 1923, and also won triple crowns at the first two open French Championships in 1925 and 1926.

In doubles, she was undefeated with her regular partner Elizabeth Ryan, highlighted by another six titles at Wimbledon.Because of her immense popularity and prominent social acquaintances, Lenglen is recognised as the first female athlete to become a global sport celebrity.

She was also the first leading amateur to turn professional, and was ranked as the greatest women's tennis player from the amateur era in the 100 Greatest of All Time series.

Coached by her father Charles throughout her career, Lenglen began playing tennis at 11 years old and emerged as a child prodigy.

In just four years, she became the youngest major champion in history with her 1914 World Hard Court Championship title at age 15.

This success along with her balletic playing style and exuberant personality helped make Lenglen a national heroine in a country coping with the aftermath of World War I.

After the war delayed her career for four years, Lenglen was largely unchallenged.She won her Wimbledon debut in 1919 in the second-longest final in history, the only one of her 12 major singles finals she did not win with a lopsided scoreline.

Her only post-war loss came in a retirement against Molla Mallory, her only amateur match in the United States.Afterwards, she began a 179-match win streak, during which she defeated Helen Wills in the high-profile Match of the Century in 1926.

Following a misunderstanding at Wimbledon later that year, Lenglen abruptly retired from amateur tennis, signing to headline a professional tour in the United States beginning that same year.

Lenglen was referred to by the French press as La Divine (The Goddess), embodying her mythical persona and perceived infallibility at tennis.

She revolutionised the sport by integrating the aggressive style of men's tennis into the women's game, breaking the convention of women competing in clothing unsuitable for tennis, and incorporating fashion into her matches.

Her popularity led Wimbledon to move to its much larger modern-day venue.Lenglen's professional tours laid the foundation for the series of men's professional tours that continued until the Open Era, and led to the first major men's professional tournament the following year.

Lenglen was inducted into the International Tennis Hall of Fame in 1978, and the second show court at the site of the French Open is named in her honour.


---