Ricky Powell
American photographer
Died when: 59 years 73 days (710 months)
Star Sign: Scorpio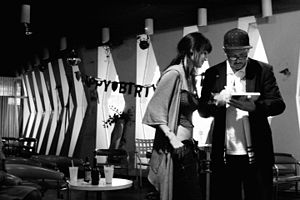 Ricky Powell (November 20, 1961 – February 1, 2021) was an American photographer who documented popular culture including hip hop, punk rock, graffiti, and pop art.

His photographs have been featured in The New York Times, the New York Post, the Daily News, The Village Voice, TIME, Newsweek, VIBE, The Source, Rolling Stone, among other publications.

His photographs included candid portraits of artists including Jean-Michel Basquiat, Andy Warhol, Madonna, in addition to many other popular culture artists and other common people.

His photographs were included in the books The Rap Photography of Ricky Powell! (1998), The Rickford Files: Classic New York Photographs (2000), Frozade Moments: Classic Street Photography of Ricky Powell (2004), and Public Access: Ricky Powell Photographs (2005) and were exhibited both domestically and internationally.

He toured with American hip-hop group Beastie Boys photographing their performances and occasionally appearing in their videos.


---