Margaret Truman
American writer
Died when: 83 years 346 days (1007 months)
Star Sign: Aquarius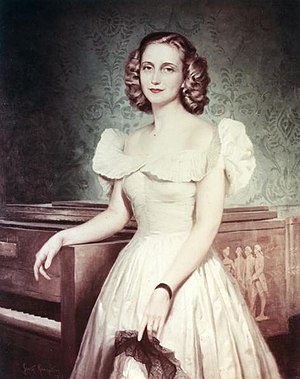 Mary Margaret Truman Daniel (February 17, 1924 – January 29, 2008) was an American classical soprano, actress, journalist, radio and television personality, writer, and New York socialite.

She was the only child of President Harry S.Truman and First Lady Bess Truman.While her father was president, during the years 1945 to 1953, Margaret regularly accompanied him on campaign trips, most notably the 1948 extensive countrywide train-borne 'Whistle-stop' campaign trip, which lasted several weeks; she also appeared often at important White House and political events during those years.

She was a favorite with the media.After graduating from George Washington University in 1946, she embarked on a career as a coloratura soprano, beginning with a concert appearance with the Detroit Symphony Orchestra in 1947.

She appeared in concerts with orchestras throughout the United States and in recitals throughout the U.S. through 1956.She made recordings for RCA Victor, and made television appearances on programs like What's My Line? and The Bell Telephone Hour.

In 1957, Truman abandoned her singing career to pursue a career as a journalist and radio personality, when she became the co-host of the program Weekday with Mike Wallace.

She also wrote articles as an independent journalist, for a variety of publications in the 1960s and 1970s.She later became the successful author of a series of murder mysteries, and a number of works on U.S.

First Ladies and First Families, including well-received biographies of her father, President Harry S.Truman and mother Bess Truman.She was married to journalist Clifton Daniel, managing editor of The New York Times.

The couple had four children, and were prominent New York socialites who often hosted events for the New York elite.


---