Roberta McCain
American socialite and oil heiress
Died when: 108 years 248 days (1304 months)
Star Sign: Aquarius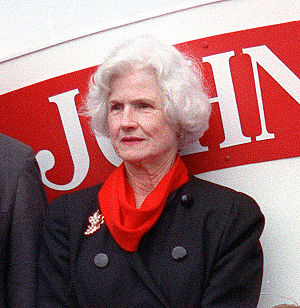 Roberta Wright McCain (February 7, 1912 – October 12, 2020) was an American socialite and oil heiress.She was the widow of U.S.

Naval Admiral John S.McCain Jr., and the mother of the late politician John S.McCain III and stage actor and journalist Joe McCain.

McCain was active in the Navy Wives Clubs and her Capitol Hill home was a popular salon for lawmakers and politicians.

In 2007 and 2008, she actively campaigned in support of her son John during his presidential bid.


---