Johnny Unitas
American Footballer
Died when: 69 years 127 days (832 months)
Star Sign: Taurus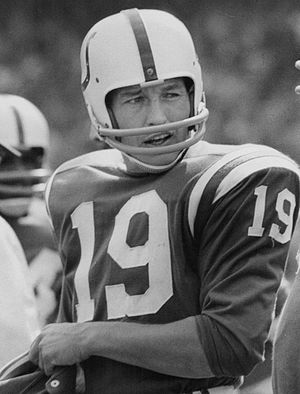 John Constantine Unitas (;May 7, 1933 – September 11, 2002) was an American football quarterback who played in the National Football League (NFL) for 18 seasons, primarily with the Baltimore Colts.

Following a career that spanned from 1956 to 1973, he has been consistently listed as one of the greatest NFL players of all time.

Unitas set many NFL records and was named Most Valuable Player three times in 1959, 1964, and 1967, in addition to receiving 10 Pro Bowl and five first-team All-Pro honors.

He helped lead the Colts to four championship titles; three pre-merger era in 1958, 1959, 1968, and one Super Bowl era in Super Bowl V.

His first championship victory is regarded as one of the league's greatest games and credited with helping popularize the NFL.

Between 1956 and 1960, he set the record for most consecutive games with a touchdown pass at 47, which held for 52 years.Nicknamed "Johnny U" and the "Golden Arm", Unitas was considered the prototype of the modern era marquee quarterback.

He was inducted into the Pro Football Hall of Fame in 1979.


---