Sammy Lee
Korean diver
Died when: 96 years 123 days (1156 months)
Star Sign: Leo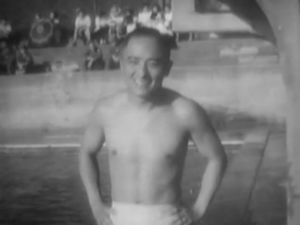 Samuel "Sammy" Lee (August 1, 1920 – December 2, 2016) was an American physician and diver.He was the first Asian American man to win an Olympic gold medal for the United States (the second Asian American to win a gold medal overall) and the first man to win back-to-back gold medals in Olympic platform diving. ==Early life and education== You are an introvertLee was born in Fresno, California to parents of Korean descent who owned what he described as "a little chop suey restaurant".

His father was fluent in English and Korean, tutored in French, graduated with a degree in civil engineering from Occidental College, and opened a chop suey restaurant and market.

As a twelve-year-old living near Los Angeles in 1932, Lee saw and was motivated by the many Olympics banners and souvenirs on display for the Summer Olympics being held in Los Angeles that year.

Later that summer, he found that he could do somersaults much better than all of his friends, which led to his goal of becoming an Olympic champion in diving.

Lee's parents moved to Highland Park, a neighborhood of Los Angeles.At the time, however, Latinos, Asians and African-Americans were only allowed to use the nearby Brookside Park Plunge in Pasadena on Wednesdays, on what was called "international day": the day before the pool was scheduled to be drained and refilled with clean water.

Because Lee needed a place to practice and could not regularly use the public pool, his coach dug a pit in his backyard and filled it with sand.

Lee practiced by jumping into the pit.Lee attended Franklin High School and later was a student-athlete at Occidental, where he received his undergraduate degree before attending the University of Southern California School of Medicine, where he received his M.D. in 1947.He joined the Army Reserve to pay for his medical school tuition.


---