Sarit Thanarat
Prime Minister of Thailand
Died when: 55 years 175 days (665 months)
Star Sign: Gemini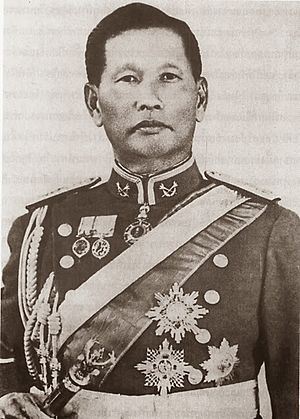 Field Marshal Sarit Thanarat (also spelt Dhanarajata;Thai: สฤษดิ์ ธนะรัชต์, pronounced [sā.rìt tʰā.ná.rát]; 16 June 1908 – 8 December 1963) was a Thai general who staged a coup in 1957, replacing Plaek Phibunsongkhram as Thailand's prime minister until Sarit died in 1963.

He was born in Bangkok, but grew up in his mother's home town in Isan-speaking northeastern Thailand and considered himself from Isan.

His father, Major Luang Ruangdetanan (birth name Thongdi Thanarat), was a career army officer best known for his translations into Thai of Cambodian literature.

He had partial Chinese ancestry.


---