Sigi Schmid
German-American soccer coach
Died when: 65 years 280 days (789 months)
Star Sign: Pisces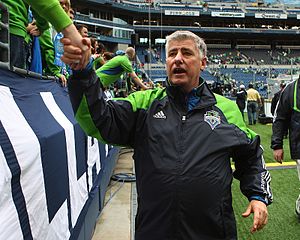 Siegfried "Sigi" Schmid (German: [ˈziːkfʀiːt ˈziːɡiː ʃmiːt];March 20, 1953 – December 25, 2018) was a German-American soccer coach who had the most wins in the history of Major League Soccer (MLS).

Born in Tübingen, West Germany, he moved to the United States with his family when he was a child.

He played college soccer from 1972 to 1975 at the University of California, Los Angeles (UCLA), where he was a starting midfielder in each of his four years.

He coached his former college team, the UCLA Bruins, between 1980 and 1999.During that period, he became one of the most successful collegiate coaches of all time, leading the Bruins to a record of 322–63–33 (wins–losses–draws).

The team made 16 consecutive playoff appearances from 1983 to 1998, winning the national championship in 1985, 1990, and 1997.Schmid also worked with U.S.

Soccer throughout the 1990s.Schmid coached the Los Angeles Galaxy and the Columbus Crew in MLS, before becoming the head coach of Seattle Sounders in 2009.

Despite never having played soccer at a professional level, he has the most coaching wins in MLS history and was the recipient of the MLS Coach of the Year Award in 1999 and 2008.

Throughout his career, Schmid received praise from critics for his ability to identify new talent.His defensive tactics were also highly regarded in the press and often cited as a factor in his success.

However, their deployment in his final two seasons with Los Angeles led directly to the termination of his contract.After winning the MLS Cup with Columbus in 2008, Schmid was hired by the expansion Seattle Sounders as their first head coach.

From 2009 to 2016, Schmid led the Sounders to seven playoff appearances, four Lamar Hunt U.S.Open Cup titles, and an MLS Supporters' Shield in 2014.

After lackluster performances in the playoffs and missteps during the first half of the 2016 season, Schmid left the club on mutual terms and was replaced by Brian Schmetzer as interim head coach.

Schmid joined ESPN as a studio analyst and was named the head coach of Los Angeles once again in 2017, replacing Curt Onalfo.

He resigned from the position in September 2018 and was replaced by assistant coach Dominic Kinnear.With Bachelor of Economics and Master of Business Administration degrees from the University of California, Los Angeles (UCLA), Schmid was a Certified Public Accountant (CPA) before coaching full-time.

Schmid and his wife had four children.Schmid died on December 25, 2018, weeks after being hospitalized in Los Angeles with a heart-related condition.


---