Stanley Ho
Hong Kongese businessman
Died when: 98 years 183 days (1182 months)
Star Sign: Sagittarius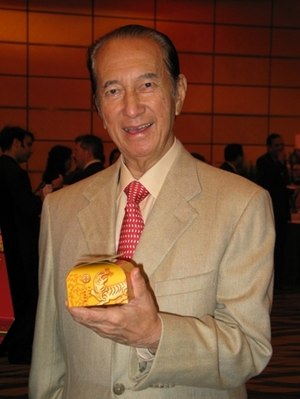 Stanley Ho Hung-sun GBM GLM GBS GML OBE CStJ SPMP SPMT (Chinese: 何鴻燊, 25 November 1921 – 26 May 2020) was a Hong Kong-Macau billionaire businessman.

His original patrilineal surname was Bosman, which was later sinicized to 何 (Ho).He was the founder and chairman of SJM Holdings, which owns nineteen casinos in Macau including the Grand Lisboa.

Ho was nicknamed variously Godfather and King of Gambling, reflecting the government-granted monopoly he held on the Macau gambling industry for 40 years.

His wealth was divided among his daughter, Pansy Ho ($5.3 billion) who owns MGM Macau, fourth wife Angela Leong ($4.1 billion) who is managing director of SJM Holdings, and son Lawrence Ho ($2.6 billion) who owns City of Dreams.

Ho was the founder and chairman of Shun Tak Holdings, through which he owned many businesses including entertainment, tourism, shipping, real estate, banking, and air transport.

It is estimated that his businesses employ almost one-fourth of the workforce of Macau.Apart from Hong Kong and Macau, he also invested in mainland China, Portugal, North Korea where he operated a casino, Vietnam, the Philippines, Mozambique, Indonesia and East Timor.

His opinions and statements on Hong Kong's real estate and commercial development had considerable sway on the market.In his later years, he had been involved in litigation with his sister, Winnie Ho, concerning the ownership of the Macau casino.

Having suffered a stroke in July 2009, followed by a long period of recovery, Ho began steps in late 2010 to devolve his grip on his financial empire to his various wives and children.

Ho died on 26 May 2020 at the Hong Kong Sanatorium & Hospital.


---