Stephen Hillenburg
American animator
Died when: 57 years 97 days (687 months)
Star Sign: Virgo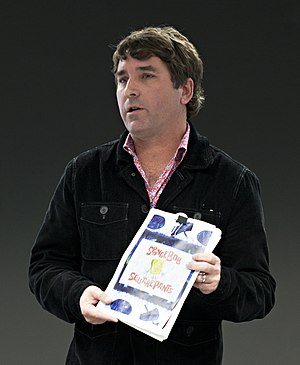 Stephen McDannell Hillenburg (August 21, 1961 – November 26, 2018) was an American animator and marine science educator.He is best remembered for creating the Nickelodeon animated television series SpongeBob SquarePants.

Hillenburg served as the showrunner for the first three seasons of the show, which has become the fifth-longest-running American animated series.

Born in Lawton, Oklahoma and raised in Anaheim, California, Hillenburg became fascinated with the ocean as a child and developed an interest in art.

He started his professional career in 1984, instructing marine biology, at the Orange County Marine Institute, where he wrote The Intertidal Zone, an informative picture book about tide-pool animals, which he used to educate his students.

In 1989, two years after leaving teaching, Hillenburg enrolled at the California Institute of the Arts to pursue a career in animation.

He was later offered a job on the Nickelodeon animated television series Rocko's Modern Life (1993–1996) after his success with The Green Beret and Wormholes (both 1992), short films that he made while studying animation.

In 1994, Hillenburg began developing The Intertidal Zone characters and concepts for what became SpongeBob SquarePants.The show has aired continuously since its premiere in 1999.

He also directed The SpongeBob SquarePants Movie (2004), which he originally intended to be the series finale.Hillenburg resigned as showrunner, but Nickelodeon continued to produce more episodes after he departed the series.

He resumed making short films, with Hollywood Blvd., USA in 2013, but continued to be credited as an executive producer for SpongeBob SquarePants.

Hillenburg co-wrote the story for the second film adaptation of the series, The SpongeBob Movie: Sponge Out of Water, which was released in 2015.

Besides his two Emmy Awards and six Annie Awards for SpongeBob SquarePants, Hillenburg also received other recognition, such as an accolade from Heal the Bay for his efforts on elevating marine life awareness, and the Television Animation Award from the National Cartoonists Society.

Hillenburg announced he was diagnosed with amyotrophic lateral sclerosis (ALS) in 2017, but stated he would continue to work on SpongeBob SquarePants as long as possible.

He died on November 26, 2018 at the age of 57.A species of marine sponge, , is named in his honor.


---