Stuart Whitman
American actor
Died when: 92 years 44 days (1105 months)
Star Sign: Aquarius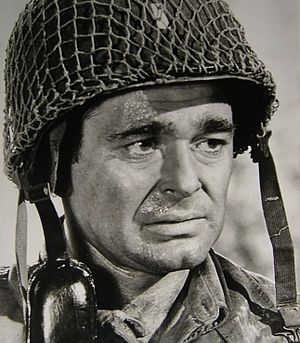 Stuart Maxwell Whitman (February 1, 1929 – March 16, 2020) was an American actor, known for his lengthy career in film and television in a large variety of genres.

Some of these credits include Highway Patrol (1955–1959), The Mark (1961), The Comancheros (1961), Those Magnificent Men in their Flying Machines (1965), Night of the Lepus (1972), Cimarron Strip (1967), and Superboy (1988–1992).

Whitman was born in San Francisco, and raised in New York until the age of twelve.His family relocated to Los Angeles.

Whitman finished high school in 1945 and was honorably discharged from the Corps of Engineers in the United States Army in 1948.

Afterwards, Whitman started studying acting and appearing in plays and had bit roles in the films Rudolph Maté's When Worlds Collide and Robert Wise's The Day the Earth Stood Still (both 1951).

Until 1957, Whitman had a streak working in mostly bit parts in films directed by leading directors.On television Whitman guest starred in series such as Dr.

Christian, The Roy Rogers Show, Death Valley Days and also had a recurring role on Highway Patrol.This led Whitman to play the role in John H.

Auer's Johnny Trouble starring Ethel Barrymore.In the late 1950s, 20th Century Fox was on a drive to develop new talent.

Head of production Buddy Adler chose Whitman to be one of the new names signed to Fox as part of a $3–4 million star-building program.

For the next couple of years Whitman continued working with prominent directors, but in the lead cast.These are William A.

Wellman's Darby's Rangers (1958) with James Garner, Frank Borzage's China Doll (1958), Philip Dunne's Ten North Frederick (1958), Andrew L.Stone's The Decks Ran Red (1958), Don Siegel's Hound-Dog Man (1959), Richard Fleischer's These Thousand Hills (1959), Henry Koster's The Story of Ruth (1960), Stuart Rosenberg's directorial credit shared with Burt Balagan for Murder, Inc., Michael Curtiz's The Comancheros (1961), and Guy Green's The Mark (1961) for which he was nominated for Best Actor.

Whitman, now an established actor, continued appearing in both film and television from 1962 to 1972.His films met with varying degrees of success, the standout roles of that era were the all-star World War II epic The Longest Day (1962), René Clément's The Day and the Hour (1962), Ken Annakin's Those Magnificent Men in their Flying Machines (1965) and the lead role in the western series Cimarron Strip (1967).

In 1972, Whitman acted in the horror film Night of the Lepus.According to Whitman, the poor quality of the film put a dent in his reputation.

From this point forward, until his retirement he appeared in many genre films some by directors Fred Williamson, Jonathan Demme, René Cardona Jr., etc.

Also from that point to his retirement, Whitman would act regularly in television, some of his credits includes The Streets of San Francisco, Love, American Style, Quincy, M.E., The Hardy Boys/Nancy Drew Mysteries, The Pirate, Condominium, Knight Rider, Matt Houston, A-Team, S.W.A.T., Fantasy Island, Murder, She Wrote, Once Upon a Texas Train, Knots Landing, The Adventures of Brisco County, Jr., Walker, Texas Ranger, etc.

From 1988 to 1992, he acted as Jonathan Kent on the TV series of Superboy.He was seen in projects until the year 2000, but was reported to be retired from acting after that, and died from skin cancer, at the age of 91 on March 16, 2020.


---