Sushma Swaraj
Indian politician
Died when: 67 years 173 days (809 months)
Star Sign: Aquarius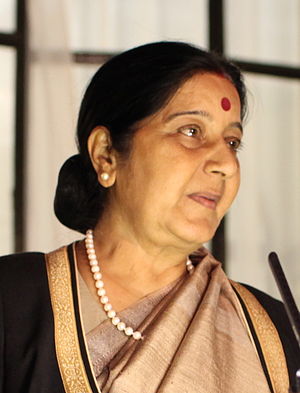 Sushma Swaraj () (née Sharma; 14 February 1952 – 6 August 2019) was an Indian politician and a Supreme Court lawyer senior leader of Bharatiya Janata Party, Swaraj served as the Minister of External Affairs of India in the first Narendra Modi government (2014–2019).

She was the second woman to hold the office, after Indira Gandhi.She was elected seven times as a Member of Parliament and three times as a Member of the Legislative Assembly.

At the age of 25 in 1977, she became the youngest cabinet minister of Indian state of Haryana.She also served as 5th Chief Minister of Delhi for a short duration in 1998 and became the First female Chief Minister of Delhi.

In the 2014 Indian general election, Swaraj won the Vidisha constituency in Madhya Pradesh for a second term, retaining her seat by a margin of over 400,000 votes.

She became the Minister of External Affairs in the union cabinet on 26 May 2014.Swaraj was called India's "best-loved politician" by the US daily Wall Street Journal.

She decided not to contest the 2019 Indian general election due to health reasons as she was recovering from a kidney transplant and needed to "save herself from dust and stay safe from infection" and hence did not join the second Modi Ministry in 2019.

According to the doctors at AIIMS New Delhi, Swaraj succumbed to a cardiac arrest following a heart attack on the night of 6 August 2019.

She was awarded the Padma Vibhushan, India's second highest civilian award posthumously in 2020 in the field of Public Affairs.


---