Ty Cobb
American baseball player
Died when: 74 years 211 days (894 months)
Star Sign: Sagittarius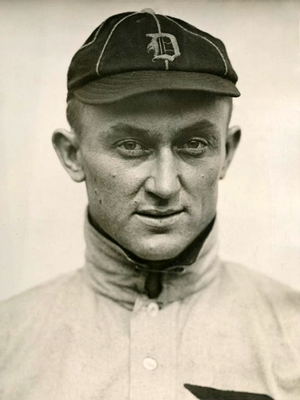 Tyrus Raymond Cobb (December 18, 1886 – July 17, 1961), nicknamed "The Georgia Peach", was an American Major League Baseball (MLB) outfielder.He was born in rural Narrows, Georgia.

Cobb spent 22 seasons with the Detroit Tigers, the last six as the team's player-manager, and finished his career with the Philadelphia Athletics.

In 1936, Cobb received the most votes of any player on the inaugural Baseball Hall of Fame ballot, receiving 222 out of a possible 226 votes (98.2%); no other player received a higher percentage of votes until Tom Seaver in 1992.

In 1999, the Sporting News ranked Ty Cobb third on their list of "Baseball's 100 Greatest Players." Cobb is widely credited with setting 90 MLB records during his career.

His combined total of 4,065 runs scored and runs batted in (after adjusting for home runs) is still the highest ever produced by any major league player.

He still holds several records as of the end of the 2019 season, including the highest career batting average (.366) and most career batting titles with 11 (or 12, depending on source).

He retained many other records for almost a half century or more, including most career hits until 1985 (4,189 or 4,191, depending on source), most career runs (2,245 or 2,246 depending on source) until 2001, most career games played (3,035) and at bats (11,429 or 11,434 depending on source) until 1974, and the modern record for most career stolen bases (892) until 1977.

He still holds the career record for stealing home (54 times) and for stealing second base, third base, and home in succession (4 times), and as the youngest player ever to compile 4,000 hits and score 2,000 runs.

Cobb ranks fifth all-time in number of games played and committed 271 errors, the most by any American League (AL) outfielder.

Cobb's legacy, which includes a large college scholarship fund for Georgia residents financed by his early investments in Coca-Cola and General Motors, has been somewhat tarnished by allegations of racism and violence, primarily stemming from a couple of mostly-discredited biographies that were released following his death.

Cobb's reputation as a violent man was fanned by his first biographer, sportswriter Al Stump, whose stories about Cobb have been discredited as sensationalized, and have largely proven to be fictional.

While he was known for often violent conflicts, he spoke favorably about black players joining the Major Leagues and was a well known philanthropist.


---